Despite the general downturn in the broader crypto market, blockchain startups are still receiving funding from venture capitalists. A CB Insights report released on Wednesday revealed that VCs injected a combined $9.2B into blockchain and crypto startups in the first quarter of this year alone.
Surprisingly, VC investments in blockchain and crypto startups have kept rising despite the huge volatility in the crypto and public markets since the beginning of this year. The CB Insights report further stated that NFTs, DeFi, and the entire Web3 was the main conviction for VCs' continued investment in blockchain and crypto startups.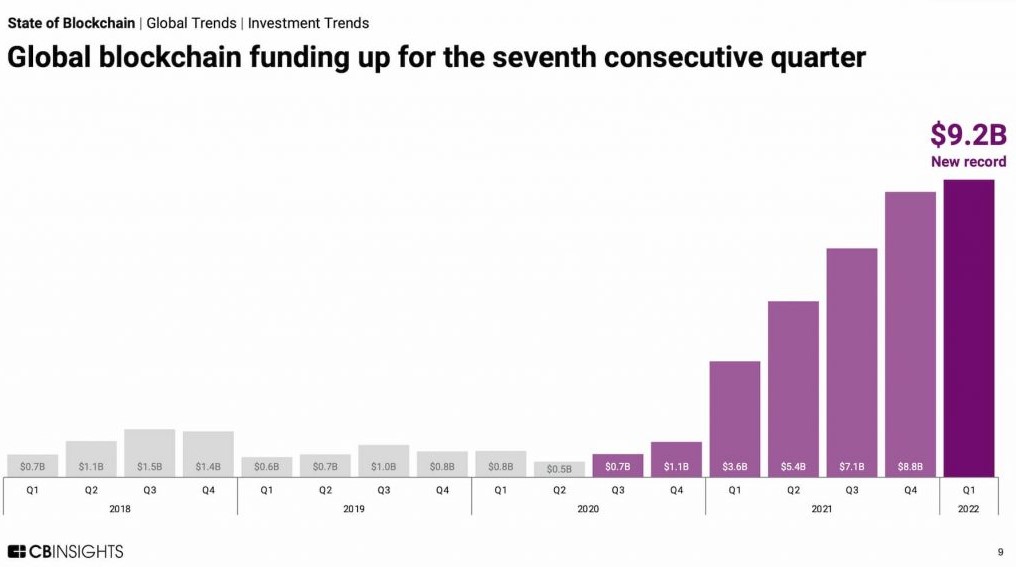 Data showing VCs' funding of blockchain starts. Source: CB Insights.
The Number Of Equity Investments In Blockchain Startups Surged By 15% 
During this past quarter, the total number of 461 equity investments in blockchain startups represented a 15% increase from Q4 2021. Also, it represented an 85% YoY increase, which is similar to having seven completed deals each working day.
80% of these investments were in early-stage blockchain startups, a percentage that doesn't change from the previous year. This percentage suggests that greater investments will still happen as the industry isn't saturated yet.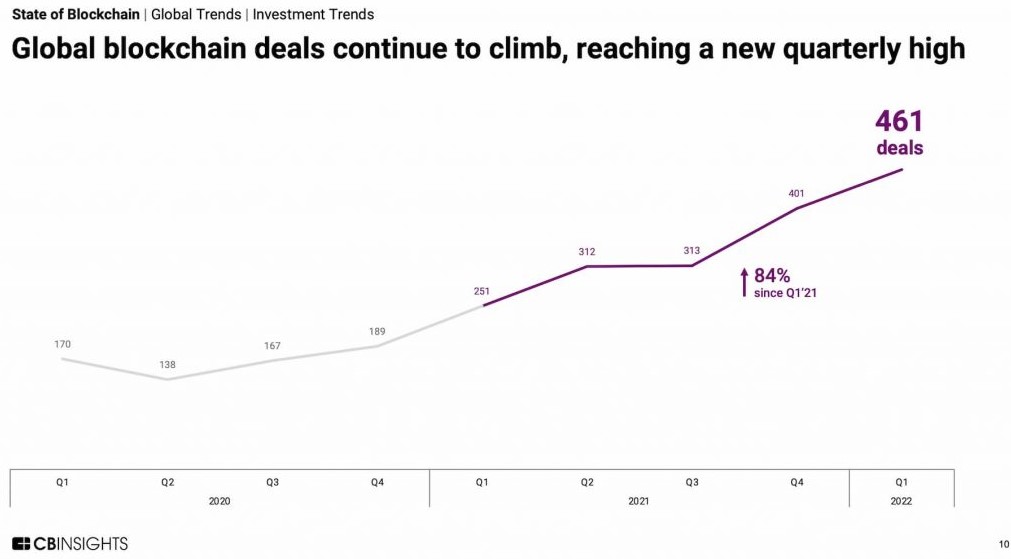 461 equity investments in blockchain startups. Source: CB Insights
The report also stated that it is the second successive quarter in which us-based blockchain firms will receive over $5B worth of funds and more than 60% of the global funding for blockchain and crypto startups.
Suppose the US authorities continue to be more proactive in regulating the crypto and blockchain space based on its recent moves. In that case, it will make the crypto industry more acceptable to institutional investors. The report's concluding remarks revealed that Q1 2022 represents the best quarter in global blockchain funding rounds.
Even though 6% of these startups received at least $100m in funding, they represented more than 60% of all funding received by these blockchain startups this past quarter. Eight of the top twelve mega funding rounds were for Web3 firms. Investors were more interested in discussing projects related to DeFis, NFTs, and Dapps than other sectors of the crypto space. 
California Governor Issues Blockchain Executive Order
Governor Gavin Newsom (California governor) has released his executive order after President Biden's executive order of March 2022. The governor of California released a blockchain executive order to enhance development in the Web3 space to protect consumers and create more jobs.
Part of the order mandates appropriate agencies within the state to improve the public's knowledge about how crypto works and submit proposals on the proper regulation of the blockchain and crypto space in the state. 
The move by Governor Newsom gives California state an edge over other states in developing an ideal regulatory policy regarding crypto and blockchain development and deployment.