Since the beginning of this year, the total value locked (TVL) on the Cardano network has been growing in leaps and bounds, the same way the Cardano community has been growing. However, the latest Defi Llama data (which was released today) showed that the 
Cardano's TVL Exceeds $200m For The First Time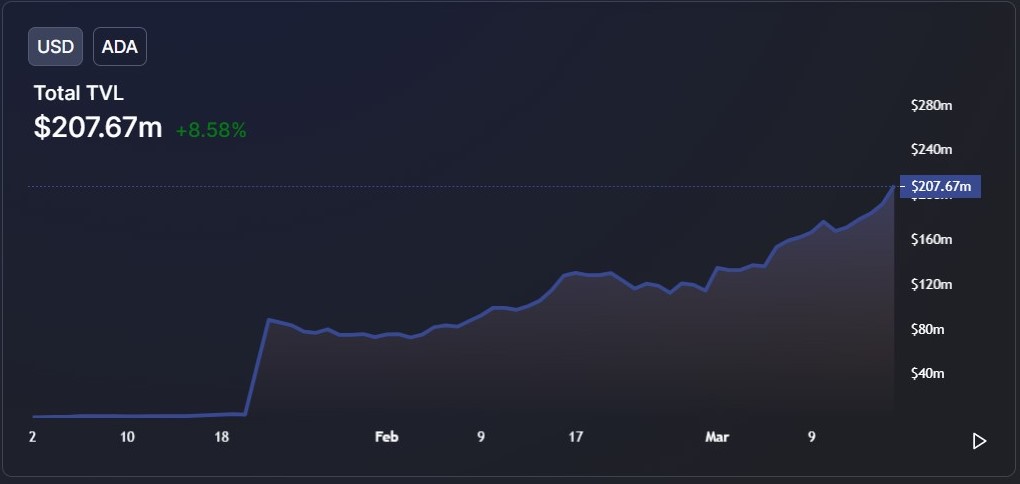 TVL in Cardano. Source: Defi Llama
TVL has now exceeded $200m for the first time. The Defi Llama report stated that TVL is exactly $207.67M. Before the gradual rise in Cardano's TVL, the TVL has been dwindling for a long time. But it started rising almost immediately after the network launched its first dex (Sundaeswap). The data showed that Cardano's TVL rose by over $50m in the last ten days as the value of the TVL as of March 6 was $152m.
Remarkably, Cardano's TVL has shot up to the current amount between January and March 2022. It is also noteworthy that most of this rise came after January 19. The Defi Llama data showed that as of January 19, 2022, the TVL in Cardano was slightly more than $3m. Thus, indicating that between January 19 and March 16, the TVL surged by a whopping 98.57%.
Over 50% Of Cardano's TVL Is In Sundaeswap 
As observed by Defi Llama fourteen days ago, Cardano's dex accounts for most of these staked funds. As of this writing, Sundaeswap is responsible for 54.29% of Cardano's TVL, equivalent to $112.72m. The remaining amounts reside in Minswap, Muesliswap, and Adaxpro in order of decreasing amounts. Despite a surging TVL on the Cardano network, the price of Cardano's governance token (ADA) hasn't risen as expected. 
The Cardano team opined that the insignificant price rise might result from investors buying the dip. As previously reported, Cardano's ecosystem predicted that ADA could rise to $1.5 by this month-end. However, the buying momentum on the network's token will largely determine whether that price is attainable. Cardano's total market cap is currently $27B, about 67% short of its peak valuation of $96B, which it attained last September.
Cardano Announces Updates Regarding Its Hydra Upgrade
On March 16, Cardano CEO, Charles Hoskinson, shared an image revealing the successful opening of the first Hydra heads on the network's public testnet. Then, he added, "this is a proud moment for me, and it shows the fabulous the Hydra team has put in to make this happen." Sebastien Hagel, a member of the network's team, also commented saying, "12 months after reading the Hydra whitepaper, we are excited about this progress we have made today."
According to the Cardano team, the launch of the Hydra upgrade will lead to an improvement in several areas of the blockchain. An important aspect of the upgrade that many Cardano community members are excited about is the development of parallel processing for smart contracts, which many have likened to Ethereum's parallel blockchains. The Cardano team predicts that the Hydra upgrade should be released before this year is over.